Indoor Air Quality
Back To Our Services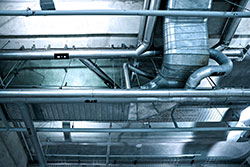 Did you know that Carson is the youngest community in the South Bay area? When it comes to Carson indoor air quality, that's a good sign -- newer construction tends to contribute to better air overall. But no matter how new your building might be, air quality will inevitably degrade over time: after all, Los Angeles is right around the corner. What does that mean to you? Poor indoor air isn't as obvious as poor outdoor air. Toxins will collect in your vents and duct systems over time.
When these poisons reach a certain concentration, they can trigger major respiratory problems. For example, many "unexplained" cases of allergy and asthma are caused in part by poor indoor air. Carson indoor air quality is very much the same as anywhere else -- if you have a small building with poor ventilation, you could be breathing air that's just as bad as the smog outside. How's that for an eye-opener?
As far as Carson indoor air quality goes, you're not likely to encounter something that could be fatal, such as asbestos. But you could still be facing invisible threats from bad air that can worsen your quality of life over time.
Our Carson indoor air quality company offers the following services and more:
air quality testing
indoor air quality home
indoor air quality businesses service
condenser unit cleaning
HVAC maintenance
HVAC unit cleaning
UV cleansers
air filter cleaning
air filter replacement
air sweep
HVAC unit cleaning
As a business, we specialize in one area and one area only: indoor air quality. Plus, we're known well to your neighbors, friends, and business associates all around Greater Los Angeles. We understand how to adapt our services to businesses or private residences, and bring top quality to every single